ICMA Awarded Industry Association of the Year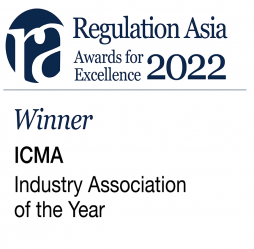 23 November 2022 International Capital Market Association (ICMA) was awarded Industry Association of the Year in the 5th Regulation Asia Awards for Excellence 2022 at an in-person ceremony on 22 November 2022.

ICMA was recognised for its extensive work over the years to develop and introduce standards for green bonds, social bonds, sustainability bonds, and sustainability-linked bonds – which are now widely seen as robust best practice standards that can be used in global and domestic capital markets. ICMA has been assisting regulators, central banks and governments to draft domestic regulations
for such instruments and ensure their own issuances were successful and aligned with global standards.

In China, for instance, ICMA provided substantial advisory and market insight to regulators and standard-setters in the drafting and finalisation of the China Green Bond Principles, which significantly increase alignment with global best practices, promote harmonisation of domestic regulations, and address investor concerns. In Japan, ICMA provided drafting and advisory assistance to help the country become one of the first to launch social bond guidelines within its own regulatory environment.

Another key workstream for ICMA during the year was to address a major change to how bond book-building and placing activities are managed from Hong Kong. The reforms, which took effect in August, were considered the single biggest change for debt capital market participants in over a decade, also affecting syndication practices for cross-border transactions.
ICMA's work involved engagement with the regulator to address challenges arising from the new requirements, achieve consensus on areas of conflicting interpretation, and ultimately lower the compliance burden for the industry. In light of the new requirements, ICMA also helped to develop industry consensus on processes and procedures to increase standardisation and efficiency, and drafted several template documents to facilitate compliance.

"ICMA's market conventions and standards have been the pillars of the international debt markets for over 50 years," said one judge on the Regulation Asia awards panel. "Its significant contribution to the global sustainable bond market is evident from local frameworks in APAC, which often cite ICMA's standards and its assistance in developing regulations and guidance."

ICMA is a membership association for the international bond markets, headquartered in Switzerland, with offices in Zurich, London, Paris, Brussels and Hong Kong. It currently services over 600 members in 65 jurisdictions worldwide.

About the Regulation Asia Awards for Excellence 2022

The Regulation Asia Awards for Excellence recognises financial institutions, technology companies, legal and consulting firms, exchanges and other players that help ensure the highest regulatory compliance standards are upheld in the financial industry. Each year, senior industry practitioners serve on a judging panel to help assess and score each submission to determine the winning entrants.

For a full list of the award 2022 winners, visit www.regulationasia.com/awards.