ICMA publishes report setting out a high-level categorisation relating to sustainability in the repo market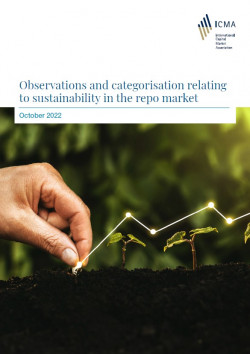 26 October 2022 ICMA's Repo & Sustainability Taskforce has published a paper which sets out observations and categorisations relating to sustainability in the repo market. The paper is a reflection on recent market developments and looks at the different intersections between repo and sustainable finance from two perspectives: 1. wider sustainability considerations in the existing repo business, and 2. specific sustainability-related repo products that have emerged in the market. In addition, the report also includes a number of observations on current market practice which could be used as a basis for developing future guidance.

The paper published today follows up on a market consultation undertaken by ICMA in 2021 and was prepared based on input from ICMA's Repo & Sustainability Taskforce, a joint working group with notably representatives from both the European Repo and Collateral Council (ERCC) and the Executive Committee of the Green, Social, Sustainability and Sustainability-Linked Bond Principles. Along with the Taskforce members, ICMA will continue to closely monitor the market evolution as well as any forthcoming regulations with the aim to encourage standardisation of terminology and sustainability approaches within the repo market.