Overview
Resort
Hotels
Sponsorship
Register
Date: 20 - 22 January 2023
Location: Zermatt, Switzerland






Overview

The annual winter gathering of the ICMA Region for Switzerland & Liechtenstein, a tradition which spans over four decades, will once again take place in 2023 in Zermatt on 20 - 22 January following a two-year absence.

The event typically brings together around 120 regional representatives from across Europe including from the UK, Germany, France, Austria, Luxembourg, Denmark and Switzerland, among others, making it an ideal opportunity to network, exchange views and experiences with peers in the cross-border bond market and the Switzerland and Liechtenstein capital market community.

Open to ICMA's entire global membership, as well as to non-members, the 2023 event will feature ski and snow boarding races in addition to a lunch and evening reception. Times and locations of individual events to follow.

For further details about this annual winter gathering, contact ICMA Events.

Admission: this event is free of charge to ICMA members with a limit of 2 delegates per member firm. Additional delegate places may be purchased by members at a rate of CHF 200.00 + VAT. Non-members may attend; however, must pay an admission fee of CHF 600.00 + VAT. Registration in advance is essential.

Pricing summary

ICMA member: 2 x free places per organisation
Additional ICMA member: CHF 200.00
Member companion: CHF 200.00
Non-member: CHF 600.00
Non-member companion: CHF 400.00

While we are hopeful this event will go ahead, we are mindful of market conditions, including the ongoing effects of the war in Ukraine, which may affect its feasibility. When making travel arrangements, we encourage you to ensure that any reservations are refundable or transferable, should we be forced to cancel or postpone the event.

Event format
Friday, 20 January
Arrivals throughout the day
Free ski
Informal evening get together
Saturday, 21 January
Ski races
Lunch
Free ski
Reception
Sunday, 22 January
Zermatt overview
Resort

On the Italian border of the canton of Valais in the west of Switzerland, at the end of the 30 km-long Nikolaital, lies Zermatt, the village at the foot of the Matterhorn, the most photographed mountain in the world. Zermatt epitomizes their image of Switzerland; high-alpine, awe-inspiring and original. Almost one-third of the 4,000-metre mountains in the alps are grouped around this world-famous health resort, which has been visited by mountaineers from all around the world since the first successful ascent of the Matterhorn in 1865. The hotels are restaurants are world-class, and the ski area is not only the highest in the Alps - it is also one of the best developed and most convenient in the world, ensuring thrilling sporting experiences on the steepest slopes in the world - and that 365 days a year. The climate is of an excellent quality: with 300 sunny days a year, there is less rainfall than anywhere else in Switzerland. The air in Zermatt is clear, dry and clean, because, since 1947, only electric cars without a combustion engine are allowed to operate in the village.

Zermatt - the ''Mountain Mecca'' has...
29 mountains soaring over 4000m (13,100ft)
nine of the ten highest mountains in Europe
the highest (ski) lift in Europe - Klein Matterhorn (Gobba di Rollin) 3899m (12,830ft)
the largest summer skiing area in the Alps (all year 9 ski lifts / 25 km runs)
the longest winter skiing season in Europe (late November to early May)
the longest consistently open ski run in Europe (Klein Matterhorn to Zermatt 13 km - open late November to mid April)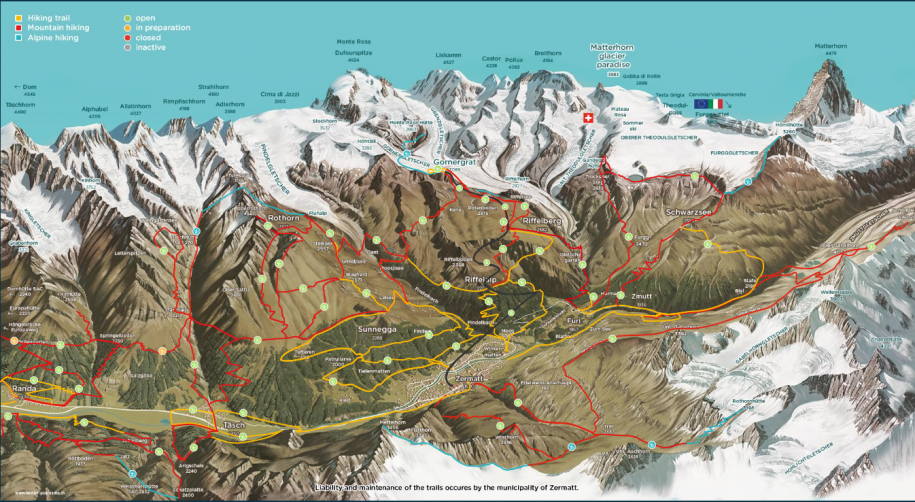 Hotels

Given the popularity of Zermatt, interested participants are urged to register now and to book their hotels as soon as possible. Delegates are reminded that they are responsible for making their own travel and accommodation arrangements.
Sponsorship

For details of the sponsorship opportunities available at this event, please download the sponsorship brochure.
If you are interested in sponsoring this event, please contact ICMA events.
Register on-line for the ICMA Switzerland and Liechtenstein Region's Winter Event to be held in Zermatt, Switzerland on 20 - 22 January 2023