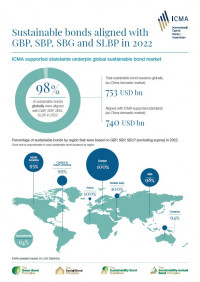 ICMA serves as Secretariat to the Green Bond Principles (GBP), the Social Bond Principles (SBP), the Sustainability Bond Guidelines (SBG) and the Sustainability-Linked Bond Principles (SLBP), providing support while advising on governance and other issues.
The Principles are backed by a global market initiative bringing together all market participants and stakeholders from the private and official sectors. For more information, please contact ICMA at greenbonds@icmagroup.org.
ICMA also leads numerous other initiatives in sustainable finance. ICMA is at the forefront of the financial industry's contribution to the development of sustainable finance and in the dialogue with the regulatory and policy community.
You may also find our News page and LinkedIn page of interest.