---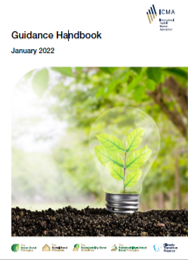 Guidance Handbook

Since the original publication of the Green Bond Principles (GBP) in 2014, and the subsequent releases of the Social Bond Principles (SBP) and Sustainability Bond Guidelines (SBG), the Sustainability-Linked Bond Principles (SLBP) and the Climate Transition Finance Handbook, market participants have sought additional information on how to interpret this guidance especially for its practical application for transactions, as well as in the context of market developments and complementary initiatives.

The Executive Committee with the support of the Secretariat published in June 2019 an up-to-date edited compendium of the former Q&A in a "Guidance Handbook" organised thematically. The version published in June 2021 reflects the publication of the newly established SLBP and the Climate Transition Finance Handbook, as well as updated versions of the GBP, SBP, and SBG, published in 2021 and contains additional responses relating to sustainability-linked bonds and climate transition finance. An updated version published in January 2022 has refined the answer to the question on buying back conventional Green, Social or Sustainability Bonds with proceeds of a new Green Social or Sustainability bond and moved it from the section "Use of Proceeds" to the section "Management of Proceeds". The question, previously numbered, 2.1.2 is now 2.2.4.

The table of content covers 6 sections:
Fundamentals,
Core Components of the GBP/SBP/SLBP,
Market and Technical Issues,
Governance & Membership,
Other Market and Official Sector Initiatives, and
Social Bonds related to COVID-19.
Following the publication of the updated Appendix 1 of the Green Bond Principles and Social Bond Principles in June 2022, a dedicated Q&A document was released to further guide market participants on sustainable securitisation.
In June 2022, additional Q&As related to SLBs were released to provide further guidance on topics such as Materiality of KPIs, Target observation date, Adjustment to the bond financial characteristics, Amend the calculation of a KPI or change a SPT, Multiple KPIs.
The Guidance Handbook will be updated in due course.
---

Translations of the Guidance Handbook