ICMA analysis: SFTR public data for repo in 2022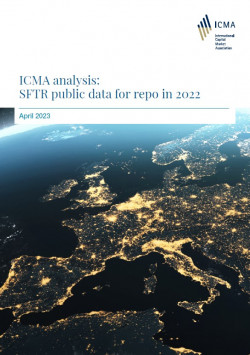 4 April 2023 ICMA released a report today which provides a closer look at SFTR public data for the year 2022. In line with SFTR itself, the data is split between figures reported for the EU repo market and those for the UK repo market.
This follows an earlier report published in September 2021 which assessed the first year of SFTR public data on repo.
Since the go-live of SFTR reporting in July 2020, ICMA has been collecting SFTR public data points that the Trade Repositories (TRs) are mandated to release on a weekly basis. ICMA collects this data, consolidates it and publishes the information in an aggregated form. While the number of public data points is limited, it is still a useful resource and provides an additional element of transparency, as well as an interesting reference point for the data that ICMA makes available separately as part of its semi-annual European Repo Market Survey.