ICMA publishes a third edition of the report Asian International Bond Markets: Developments and Trends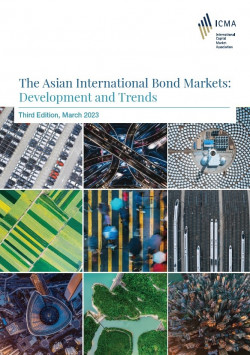 29 March 2023 ICMA, supported by the Hong Kong Monetary Authority (HKMA), has today published the third edition of its report, The Asian International Bond Markets: Development and Trends. The report shows that annual issuance of cross-border bonds from Asia amounted to USD 346 billion in 2022. Despite a year-on-year decline in issuance volumes in tandem with the global market due to interest rate hikes by many central banks across the globe, geopolitical tensions, and sectoral credit events, certain market segments exhibited resilience and continued to fuel the growth of the international bond markets in Asia.

Download the report:
English version | Chinese version
Looking at markets across Asia including China, India, ASEAN, Japan and South Korea, the report identifies trends in both issuance and trading of international bonds in the region.

China accounted for 33% of Asia international issuance in 2022 and continued to be the largest overall source, followed by Japan and South Korea. International issuance volume by South Korean issuers remained relatively resilient compared with other jurisdictions, with USD 40 billion in 2022, only a 25% decrease from 2021.

Green, social, sustainability and sustainability-linked (GSSS) bonds also experienced a 22% decline in issuance to USD 80 billion during 2022, though as a proportion of all international issuance in Asia, GSSS bonds rose from 16% to 23%, evidencing the attractiveness of sustainable bonds as a financing instrument for issuers. The growth of international bond markets in Asia has been fuelled by the steady entry of new issuers and by a diverse investor base, with Asian financial centres playing a larger role in arrangement and listing.

As with the primary market, secondary market conditions were challenging in 2022, with overall traded volumes lower than 2021 and with regular episodes of illiquidity and heightened price volatility. These were in part a response to higher yields and widening credit spreads, which increased uncertainty for investors and risks for market-makers.

The use of electronic venues to transact in the secondary market continues to become more entrenched. Historically this has been mainly prompted by efficiencies, with most e-trading in smaller trade sizes and in more liquid, investment grade names. More recently, however, this increasingly has been driven by the need for price discovery and the search for liquidity. 2022 also saw a growth in the adoption of protocols other than RFQ, including all-to-all and portfolio trading.

Commenting on the report, ICMA Chief Executive Bryan Pascoe said: "While macroeconomic headwinds in 2022 have dampened issuance growth, Asian financial centres continue to play a significant role in the development of international bond markets. Indeed, beyond the headline numbers we see foundational work in the area of digitalisation that should drive strong growth".